KateL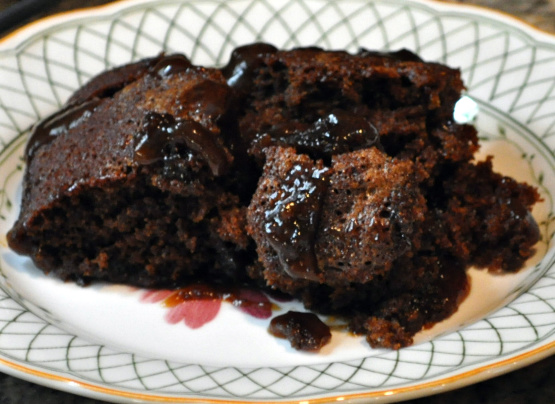 Another find in the TOH magazine. Love that it is a full flavored cake that needs only a dollop of whipped cream and a sprinkle of cinnamon to finish. Serve this cake warm for best results!

Top Review by KateL
So tasty I almost chucked my diet out the window! DH had second helpings, with a BIG smile on his face. Served with a dollop of Recipe #485591, this was scrumptious, it could lead to a proposal. Yeah, that good. Once cooked, it's almost as if the cake is sitting in a moat, so there is gooey stuff to pour over the cake. The cake itself was not overly spicy, and would not be confused with gingerbread during tasting. Don't be surprised if the plate is licked clean. ETA: This was even better the second day! Made for The Wild Bunch for ZWT8 for its stop in India.
In a large bowl, cream 1/2 cup softened butter and sugar until light and fluffy. Add egg and beat well; then beat in molasses.
Combine flour, baking soda, spices and salt in a small bowl. Add flour mixture to the creamed mixture alternately with the 1 cup of water, beating well after each addition.
Transfer batter to a 9x13" UNgreased baking pan. Sprinkle batter with brown sugar.
In a microwave, heat 1 1/2 cups water and 1/4 c butter, until butter is melted. Carefully pour this mixture over the batter in the pan.
Bake at 350F for 35-40 minutes or until a toothpick inserted near center comes out clean.
Serve WARM. Garnish with a dollop of whipped cream and a sprinkle of cinnamon.