Junebug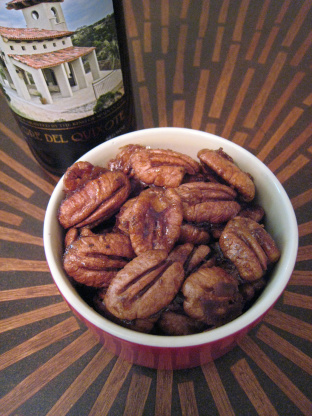 Great to nibble on with a glass of Champagne over the holidays! From Bon Appetit.

Top Review by Bergy
Well I want to give this a 5 star! The pecans were gobbled down with gusto. I could not enjoy them as i have a slight allergy to anise but I go along with the majority - they exclaimed 5 star all the way. So thanks, I would have loved to enjoy them but the headache would not be worth it.. I didn't see the Chinese 5 spice beore I chose to review it. Bev my guests thank you profusely and have said "Play it again Bergy"!
Preheat oven to 350°F.
Butter 2 large baking sheets.
Melt 1/4 cup butter in large skillet over medium heat.
Add brown sugar, 1/4 cup water, salt and spices; stir until sugar dissolves.
Add nuts to sugar mixture and cook until syrup thickly coats nuts, stirring frequently, about 5 minutes.
Transfer nuts to prepared baking sheets.
Bake until golden, about 5-10 minutes.
Cool (Can be prepared 3 days ahead. Store in airtight container at room temperature).