Chef Dee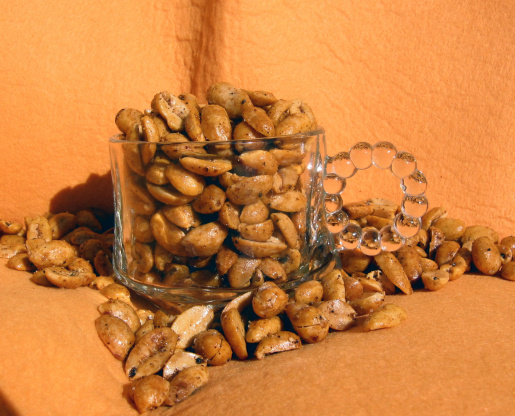 Make these only if you are a curry-lover and must use dry roasted peanuts only. These can be made up to 4 days in advance and stored in an airtight container at room temperature.

I made these as a Christmas present. The recipe is very easy, and they are tasty too. I have to keep swatting my husband away from the present box ;-) Thanks for posting!
Set oven to 300 degrees.
Heat 2 tablespoons oil in a large skillet over medium heat.
In a small bowl, mix together all seasonings except the salt, add to the skillet and stir with a wooden spoon until fragrant (about 30 seconds).
Add in peanuts and stir until coated (about 2 minutes.
Transfer the peanuts to a large baking sheet.
Bake peanuts until golden brown and almost dry, stirring occasionally (about 15 minutes).
Remove baking sheet and season with salt.
Transfer to paper towels.