JustJanS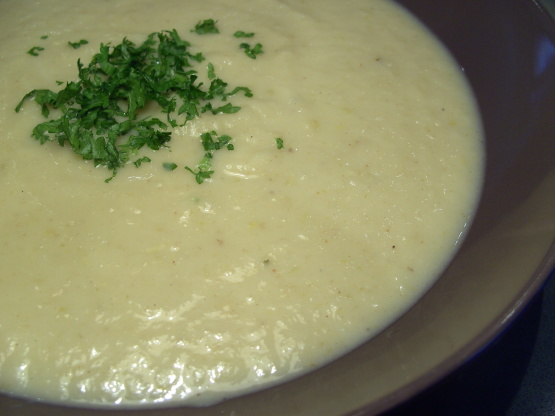 Like soup? Want a winter warmer? Comfort food that is quick easy and filling? Love the taste of the good ole underated parsnip? If you answered yes to all 4 questions...... then this is the soup for you!

Souper yummy thanks Tis. I got a good deal on parsnips so made 4 times the recipe. I used the same amount of nutmeg though as I think it is quite a bitter spice in large quantities. I used fennel seeds and a knob of fresh ginger. I don't think there is a soup around that doesn't benefit from a bit of that celery in the crisper that might otherwise get thrown out so I threw some in too. I seriously doubt the original recipe would feed 4 (2 cups of liquid and not too many veg) except as part of a multi coursed dinner party menu. I will get 8 serves for our lunches from the 4xrecipe I made. One question, why did I need to preheat the oven in step 1 ? ;-)
Heat a little oil in a saucepan add onions and garlic, Heat through until onions are tender and transparent in colour. Remove onions/garlic from the pan and set aside.
Add parsnip to the used saucepan amd cook, stirring occasionally until browned. (A little more oil may be needed in the pan).
Add the onion/garlic mix back to saucepan and add the spices, stir in well and cook for a further minute or until fragrant.
Add the wine amd stir until any brown deposits on the side or bottom of the pan are removed and mixed into the wine. (deglaze the pan) then add chicken stock. Simmer for 5 minutes or until parsnip is tender.
Add sour cream and using a stick blender or processor ~ process mix until the soup until smooth.
Season with salt and pepper (optional).
Serve sprinkled with parsley.