Rita1652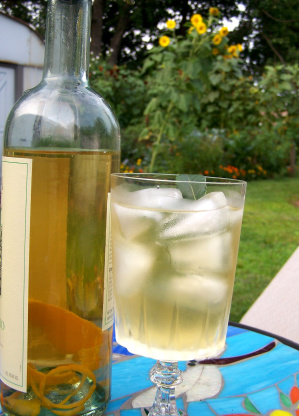 What could be more French countryside than pulling a chilled bottle of homemade (or at least home-doctored) wine from the fridge for a special celebration? This orange sipping wine is a little sweeter and stronger than a regular glass of white, and it's the perfect aperitif. Cook time is chill time.
Bring all ingredients except oranges to a boil (reserve wine bottles and corks), stirring until sugar has dissolved.
Remove zest from oranges in a continuous spiral using a vegetable peeler and cut off any white pith with a paring knife.
Reserve oranges for another use and divide zest between empty wine bottles.
Fill bottles with orange wine and cool, leave uncorked for1 hour.
Cork bottles, then chill at least 5 hours.
Cooks' note:.
Orange wine can be chilled up to 1 week.