PaulaG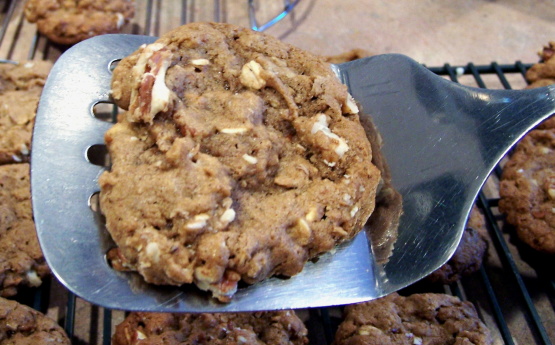 The pepper is optional but good to add in, it compliments the other spices! Plan ahead the dough needs to chill for a minimum of 2 hours before baking or up to 24 hours, the dough may also be frozen if desired.
Top Review by PaulaG
These are delicious cookies. I only used 1/2 cup butter leaving off the additional 2 tablespoons. For the spices, I used my recipe #145505 and pecans for the nuts. I placed the dough in the freezer for 1 hour prior to shaping and used my cookie scoop. The yield was right on target. These are a nice soft cookie when hot and crisp with a chewy center when cold.
Set oven to 350°F.
Lightly grease baking sheet/s.
In a bowl combine the flour with next 7 ingredients.
In another bow beat together 1/2 cup plus 2 tablespoons butter with brown sugar and vanilla until light and fluffy.
Add in eggs; beat until combined.
Add in the flour mixture and the oats; mix until just combined.
Mix in chopped nuts (if using).
Chill the dough for a minimum of 2 hours or up to 24 hours.
Drop by tablespoonfuls onto baking/cookie sheet (leave enough room between each cookie as these will spread while baking).
Bake for about 10 minutes or until crisp.
Cool in pan for 3 minutes then remove with a spatula to wire racks to cool.