jenne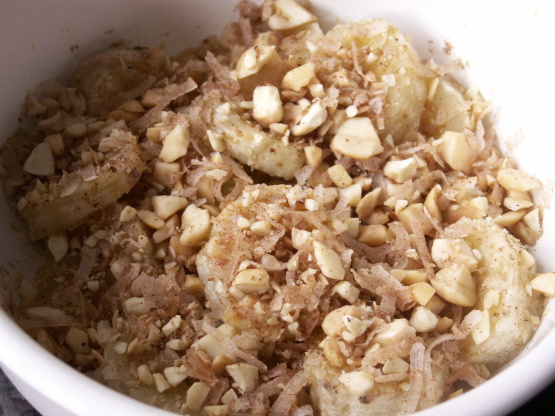 A delectable dessert from Africa made in the microwave.

This was my second banana/ice cream recipe while "travelling" through Africa on the ZWT4 tour. I hesitated to make this because of the orange juice so I decided to use some of the coconut milk left from another recipe and I think it was a great idea. I left the flaked coconut off and used coconut rum! Served with vanilla bean ice cream and it was delicious! My daughter even loved it and she doesn't like coconut (she couldn't see it so she loved it!). Oh! like almost ALL the African recipes I've made I added a touch of cardamom in addition to the nutmeg and cinnamon!
Slice the bananas (circles) and place in a microwave dish.
Mix together the cashew nuts, peanuts, coconut, sugar, cinnamon and nutmeg in a small bowl.
Pour the orange juice and rum over the bananas, then sprinkle with the nut and sugar mixture.
Dot the top with butter or margarine,.
Microwave for 4 minutes or until the sauce is bubbly.
Spoon in serving bowl and add a scoop of ice cream or top with Whipped cream.
Freshly grated nutmeg makes all the difference to this dish. More rum can be added if preferred. Chopped mixed nuts can be used instead of peanuts.