CarolAT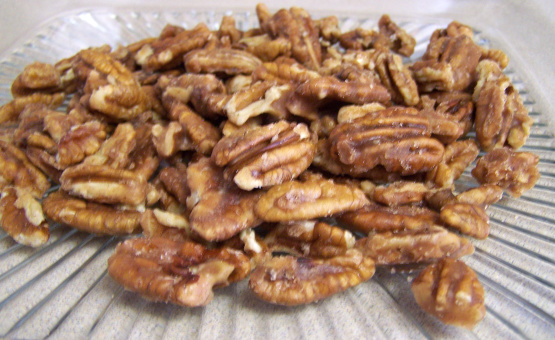 This is my aunt's recipe. She brought these to all of our holiday parties when I was growing up.

These spiced almonds are a great addition to any finger food counter, as they were for mine this evening! From the recipe's directions, however, it was unclear about what to do with the nuts after they were covered with the syrup! From past experience, though, I spread them out on some wax paper & let them cool & harden the glaze! Turned out just fine! [Made & reviewed for one of my adopted chefs in this Spring's PAC]
Preheat your candy thermometer. Combine the sugar, water, cinnamon, and salt in a saucepan. Turn the heat to medium and stir the mixture until the sugar has dissolved.
Turn the heat up to medium high, then place the thermometer into the pan. The temperature will slowly rise. Cook until the soft ball stage, 240°F.
Once the syrup reaches that temperature, remove from the heat.
Place the butter, vanilla, and almonds in a medium-sized mixing bowl. Pour in the syrup and mix everything together until the almonds are covered with the syrup.
It will take about 2 hours for the syrup to crystallize. It should turn out as a soft glaze.