Spiced Mocha Chip Cookies
Annacia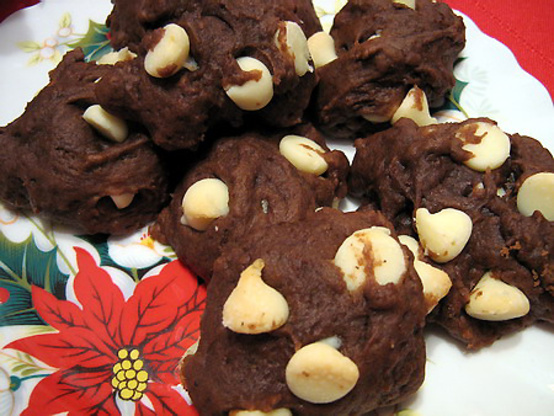 This is my adaptation of a recipe from Nestle, posted by request. I decreased the amount of instant coffee, because I found the original amount to be waaay to much. This is a good recipe to use the new swirled morsels in. NOTES: yield given is if a cookie scoop is used to dole them out. Cooking time is approximate per batch.

Made these for our Xmas Cookie Trays this year, and opted to use the orange extract with dark chocolate chips and white. These were Fabulous! They have multiple layers of flavor, and each revelation is shockingly delicious. These will be staying in our repertoire for sure!
Preheat oven to 350ºF.
Lightly grease cookie sheet (I like to use multiples, no waiting for cool time) In a medium bowl, combine flour, cocoa powder, cinnamon, baking soda and salt.
In a large bowl, cream butter, brown sugar and white sugar together until light and fluffy (this may take several minutes, depending on the strength of your mixer).
Beat in eggs one at a time, mixing well.
Mix in extracts.
Combine instant coffee and water in a small bowl and stir until fully dissolved.
Mix coffee into butter/sugar mixture.
Gradually mix flour mixture into butter mixture.
Set aside 1/2 cup of morsels (for sprinkling and making the cookies pretty), and stir remaining morsels into dough.
Drop by cookie scoop (or by rounded teaspoonfuls) onto prepared pans.
For visual effect, sprinkle a few of the reserved morsels onto each cookie.
Bake for 10 to 12 minutes, or until edges look done but centers appear slightly underbaked (I find that after the first batch, consecutive batches may take as little as 6 minutes to bake- I watch them carefully to prevent overbaking).
Allow to cool on pan for 5 minutes, then transfer cookies to a wire rack to finish cooling (be sure to eat at least one cookie while still warm!).