Spiced Lamb With Coriander Pumpkin (21 Day Wonder Diet: Day 1 )
Sara 76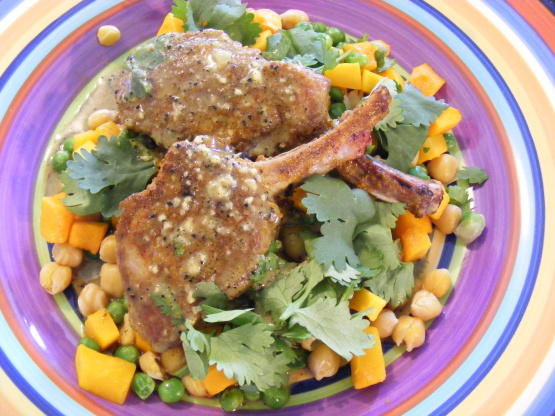 This is Day 1: Dinner from the 21 Day Wonder Diet. The first time Imade this, I was unable to buy lamb cutlets, so I used 300g diced chicken breast instead. Als i was unable to buy fresh coriander, and had to use dried. The sauce is divine in this recipe, gives the food almost a Thai flavour. :yum:

Wonderful curry flavour in the sauce. Will have to try again with the chicken. I am not a fan of lamb. The pumpkin was the best part of the meal for me. Kids enjoyed it so will definately make again.
Preheat oven to 200C/180C fan-forced.
Roast pumpkin in small, shallow baking dish, uncovered, 10 minutes. add chickpeas and peas; cook uncovered, about 5 minutes or until pumpkn is tender. Remove from oven; sprinkle with coriander.
Meanwhile, sprinkle lamb with curry powder. Spray lamb with cooking oil. Cook lamb in heated medium frying an; remove from pan.
Add coconut milk, stock and garlic to same pan, bring to the boil, stirring; remove from heat.
Serve pumpkin mixture and lamb drizzled with coconut sauce.