ImPat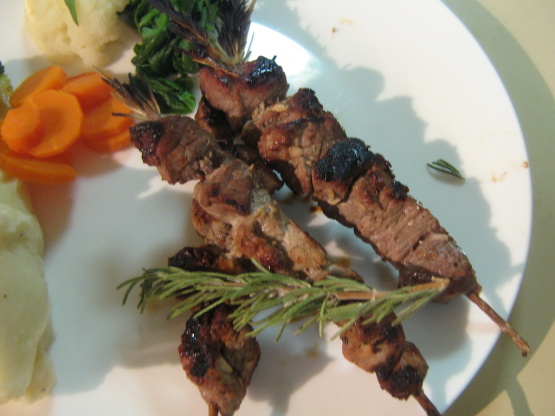 Adapted from a recipe in Michelle Trute's 'cooking with conscience'. All the recipes in this book are low fat, low-moderate GI and easily prepared. This recipe is moderate GI and low in fat. She includes no salt in this recipe but I have included sea salt below as optional as I know for many this is an essential ingredient. If rosemary branches are unavailable, use wooden skewers soaked in water and add rosemary to the lamb just before threading it onto the skewers. I have also included sage as I love rosemary and sage together. Michelle Trute recommends marjoram, mint, rosemary and sage with lamb and recommends using herbs rather than salt. I have also posted Michelle Trute's Zucchini Mustard Chicken Burgers. 800g = just under 26 ounces.

Top Review by ImPat
The vote was between 3 and 5 by the 4 diners. I boned a small leg of lamb and got just over 600grams of meat and marinated for about 7 hours and threaded meat onto dried rosemary skewers (got 12 skewers meat only), served with mashed potatoe and steamed veg and made for a very enjoyable meal thank you bluemoon downunder, made for New Kid on the Block tag game.
Combine lamb, lemon juice, garlic, pepper and ea ssalt (if using) in a bowl and refrigerate for 3 hours.
Sprinkle lamb with rosemary and sage (if using) and thread lamb, alternating with onion and bell pepper onto the rosemary branches (or wooden skewers).
Heat grill and cook the skewers on both sides for 3-4 minutes or until meat is cooked to your liking.
Let rest for 4 minutes then serve with couscous and yoghurt and dill sauce. The recipe for this is in Michelle Trute's first book which is out of print, My recommendation is to combine yoghurt with dill and perhaps include chopped green onions. She'd undoutedly recommend low-fat natural yoghurt. I wouldn't be able to resist using Greek yoghurt.
NOTE: To make your couscous more flavoursome, cook it in stock, and if you want it to be super-healthy, use a stock such as my Recipe #135453.