SEvans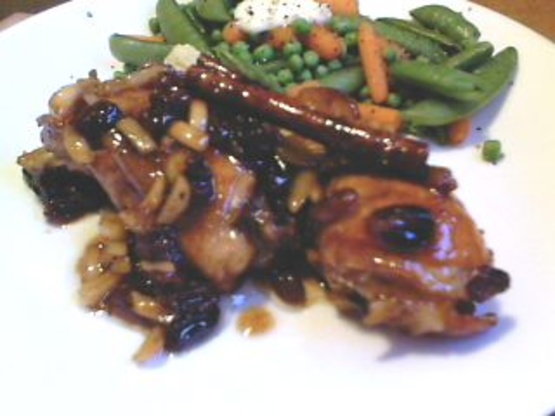 This recipe is easy to make and looks like gourmet cooking. Can easily be halved for less people.

I made 1/3 of the recipe as written. It was delicious and I truly enjoyed it. Some of the younger family members (and my husband) still enjoyed it but were less enthusiastic about this meal,however, I would still definitely make this again!
We served with steamed green beans and ciabatta bread, but I can also imagine serving with warm home-style applesauce.
preheat oven to 350°F.
combine honey garlic, butter, lemon rind, lemon juice in a bowl.
place chicken skin side up in a large casserole dish.
drizzle half of the honey mixture over the meat, making sure each piece has some.
In a small bowl combine the salt, pepper, nutmeg, and cloves.
sprinkle the spices evenly over the chicken.
sprinkle chicken with almonds and raisins.
place the cinnamon sticks evenly around the casserold dish.
evenly pour the rest of the honey mixture over the chicken.
bake for 1 hour and 30 minutes, basting about every half hour.
for the last 20 - 30 minutes of cooking time - flip the chicken pieces.
remove from oven and return to skin side up - baste one more time before serving.