Spiced Glazed Nuts and Pretzel Mix
Linky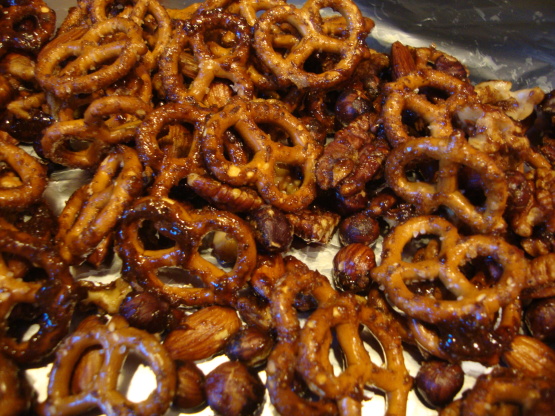 This is sweet and spicy and crunchy. Found on David Lebovitz site. Glazing the nuts with spices and adding a touch of sweetness, makes this the perfect nibble before dinner with an aperitif. I melt the butter in a large bowl, so I can do all the mixing in that bowl, making one less thing for me to wash as well. Note that the salt is added after the nuts are stirred, so it doesn't dissolve. And be sure to use coarse salt, which has an appealing, crunchy texture and more delicate flavor than ordinary table salt.
1. Spread the nuts on a baking sheet and roast in a 350F (180C) oven for 10 minutes, stirring once for even toasting.
2. In a medium bowl, mix together the melted butter, brown sugar, cinnamon, cayenne, and maple syrup.
Add the salt, warm nuts, pretzels, and stir until the nuts and pretzels are completely coated.
3. Spread the mixture back on the baking sheet and return to the oven for 12 minutes, stirring twice during cooking. Remove from oven and cool completely, separating the nuts and pretzels as they cool.
Once cool, this mixture can be stored in an airtight container for up to a week.