spiced filet mignon with mushrooms
PaulaG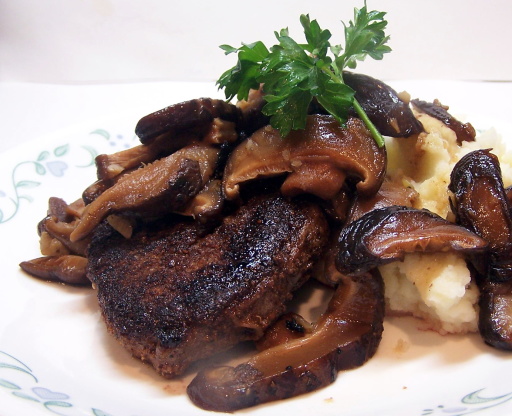 serve this with wasabi mashed potatoes at your next dinner party. from bon appetit.
Top Review by PaulaG
This is a dinner that would be well received at any dinner party. The meat was seared on the outside and delicious and juicy on the inside. The seasoning blend provided a nice blending of flavors along with the meaty texture of the shitake mushrooms. The recommended quantities of mustard seeds and five spice powder made way more seasoning than was needed to thoroughly coat the meat. I might reduce that amount next time. This was served as suggested with wasabi mashed potatoes.
preheat oven to 400 put shiitakes and hot water in a small bowl, soak for 20 minutes.
remove shiitakes, reserve water.
stem and slice.
in a skillet heat 2 tbsp oil.
add crimini, garlic, shallots, shiitake, saute 5 minutes.
add wine and 1/2 c mushroom soaking liquid.
simmer until reduced to 1/2 cup, about 5 minutes add beef stock, reduce to 1 1/2 c, 6 minutes.
set aside.
in a small pan toast mustard seeds until they begin to pop.
cool slightly and grind.
mix with 5 spice powder, salt and pepper to taste.
sprinkle over filets.
heat remaining oil in a skillet, add filets and cook for 2-3 minutes per side.
transfer to a baking dish and place in oven until done, 5 minutes for medium rare.
meanwhile add the sauce to the filet skillet,bring to a simmer and whisk in butter 1 tbsp at a time.
season with salt and pepper, serve sauce over filet mignon.