Spiced Elizabethan Pork and Fruit Casserole
Annacia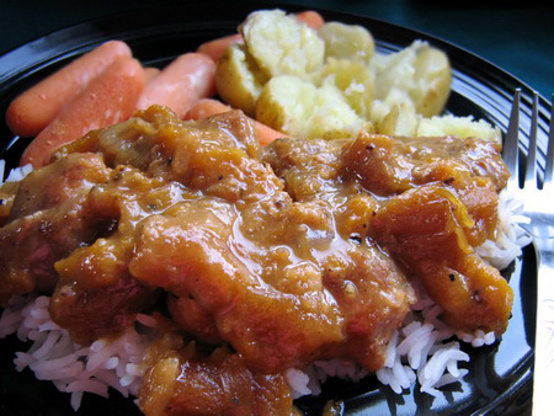 The use of spices and fruit in savoury recipes during the Elizabethan era was very popular, especially with the upper classes and the Royal court. This is based on a genuine Elizabethan recipe, which I have adapted for modern day cooking! I have included potatoes - which made their first appearance in Great Britain during this period, and were a novelty! Serve with steamed greens and assorted root vegetables. N.B. Oven temperatures were not given in my original posting of this recipe, but they have been added now! Also, the finely chopped herbs added at the end, gives the casserole a very "fresh" herby taste and a lovely colour - they MUST be very finely chopped however, and must NOT include the stalks, just the leaves - with the exception of the parsley.

A truly outstanding recipe. I also used a humongous pork chop (I made 2 servings) cut into large chunks. I replaced the wine with chicken broth and I used dried apricots for the dates because I had apricots and I skipped the honey (or any added sweetening) to lower the sugars. I forgot to add the last herbs but the flavor had a ton of impact none the less. It's a rich, multi layered, symphony of spicy, sweet and savory and is marvelous. It was so good and complete that I can't imagine changing it from the way I made it. Oh yes, I used tiny Yukon Gold potato's because they are my favorites. Even with my changes I just can't stop raving. It was done in an hr and 15 mins on a slow simmer and I needed to add a bit of water once. The aroma is amazing and this would also be fantastic with chicken.
Heat the oil and gently fry the onion and garlic for 10 minutes.
Toss the meat in the flour combined with the spices and seasoning and add to the onion.
Fry the meat, stirring occasionally until evenly browned.
Stir in the red wine with the honey and continue to cook over a medium heat, stirring for a further minute.
Add the dates and potato chunks and transfer to an ovenproof casserole dish.
Cover and cook for 2-2 1/2 hours or until the meat is thoroughly cooked.
Just before serving stir in the fresh herbs.