ImPat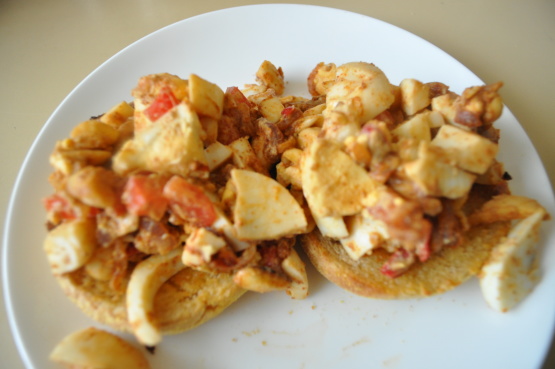 Not the typical bland, mayonnaise-rich mash you're imagining! The author of "The Soul of a New Cuisine: A Discovery of the Foods and Flavors of Africa" created this version of egg salad that has heat from chiles and paprika as well as soy sauce for a salty note.

Top Review by ImPat
I scaled this back to use 2 eggs but as I didn't have peanuts I dry roasted some blanched almonds (I always dry roast nuts either in a pan or in the oven as I feel the natural oils are enough to brown them) and chopped them up and then proceeded to do as per recipe and served on a toasted wholemeal English muffin and WOW what an explosion of flavours in the mouth this was and made a really nice change from a mayo based egg salad. Thank you ~Jen~, made for Please Review My Recipes.
Heat two tablespoons of the olive oil in a large saute pan over low heat.
Add the peanuts and saute until golden, about five minutes.
Stir in the chilies, onions and garlic, and saute until the onions are translucent, about five minutes.
Add the paprika, ginger and chili powder and cook until fragrant, about two minutes.
Transfer to a bowl.
Gently fold in the eggs, tomatoes, cilantro, soy sauce, lime juice, the remaining two tablespoons olive oil and the salt.
Serve at room temperature.