GaylaJ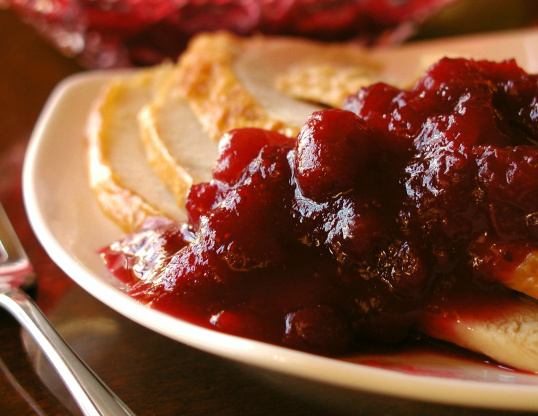 I love the warm tones the honey and spices give this wonderful sauce from Gourmet.

Delicious! I used strawberry organe banana juice (bc that's what was in the fridge). Substituted 1 tsp of ground cinnamon for the sticks. Perfect blend of sweet and spice. Easiest recipe ever! Thanks for sharing!
Combine all ingredients in a saucepan and simmer, covered, stirring occasionally for 5 to 10 minutes, or until the cranberries have burst and the mixture has thickened. (I put the cloves in a tea diffuser for easier removal and usually cook the sauce a little longer than the time given.).
Transfer the sauce to a bowl and let cool.
The sauce may be made 2 days in advance and kept covered and chilled.
Serve at room temperature.