Spiced Chicken With Honey-Ginger Glaze
ImPat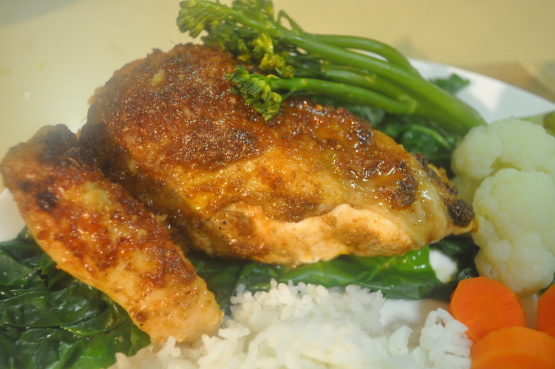 I got this from Grilling & Barbecuing by Denis Kelly.

Top Review by ImPat
I quartered a chicken and allowed 50 minutes in the oven and the result was beautifully moist chicken but when it came to the flavour well the opinions ranged from a reluctant o'kay to lip smacking good. I must admit I wasn't sure about having white pepper and then fresh ground pepper so added a 1/4 teaspoon of hot cayenne and that gave it a spicy taste. I only used about a half of the basting liquid and tried to make a sauce with what was left by heating in the microwave and then thicking with some cornflour (cornstarch) paste the result was a nice looking sauce but tasted way too sweet to use. Thank you Sharon123 made for your Cook-a-thon in memory of Jim.
Heat the oven to 325 degrees.
Line rimmed baking sheet with foil.
In a small bowl, combine the ginger, coriander, peppers and salt.
Add just enough oil to make a paste.
Rub the spice paste under and over skin of chicken.
Bake on prepared pan 20 minutes.
Meanwhile, combine the honey, sherry, ginger and lemon juice.
Spoon some of the glaze over the chicken and continue to bake, spooning on additional glaze every few minutes, until chicken is cooked through, about 15 minutes longer.
Makes 4 servings.