Spiced Chicken Thighs in Tomato Broth With Olives and Chickpeas
ttnagoya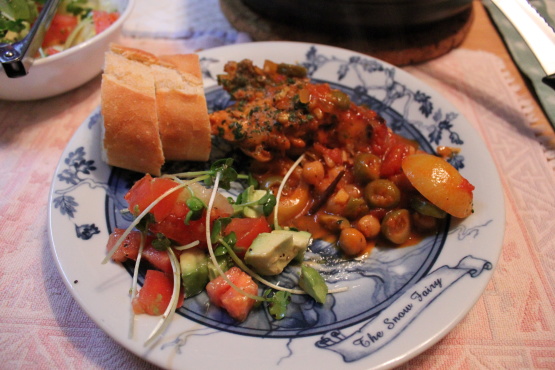 From Cuisine at Home. Serve with pita bread.
Combine spices and salt in a dish, then rub over chicken thighs; let stand about 5 minutes.
Heat oil in a skillet over medium; add chicken, skin side down, and saute until browned on both sides, 10 minutes total. Remove chicken and pour off all but 1 T drippings.
Add onion and saute 3 minutes.
Stir in ginger, garlic, pepper flakes and cinnamon stick; cook just until fragrant, about 1 minute.
Deglaze with wine and tomato paste, stirring to combine. Simmer until liquid evaporates.
Add tomatoes, broth, chickpeas, olives, honey, lemon and bay leaf; stir to combine.
Arrange reserved chicken on top cover, and reduce heat to medium-low. Simmer until chicken is cooked through and sauce is reduced, 20-25 minutes.
Finish with parsley and salt just before serving.
Serve with pita bread.