Spiced Carrot Soup / M Milliken & S Feniger
Pneuma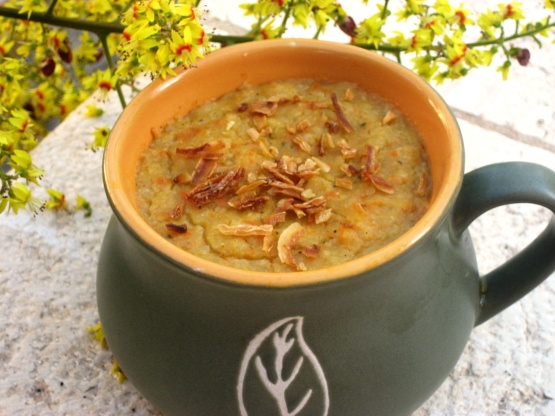 1996 recipe from their L.A. restaurant and TV Food Network show. Had it at the restaurant and it's fabulous! The recipe for Crispy Fried Shallots can be found at: http://www.recipezaar.com/108334 Addendum, Oct 2008: The photo came from a recipezaar chef who made this as part of PAC 2008 ... and I agree with her comment -- this is much thicker than I remember the soup I was served at their restaurant and I would definitely have added some water or veg stock to thin it out. The consistency I remember it having was like a tomato bisque ... it would coat a spoon, but drip off over about 30 sec, leaving the spoon clean. The texture was as if 75-80% of the ingredients had been pureed and a small amount left intact for mouth feel. Feel free to adjust the liquid so your product has that consistency ...
Add oil to heavy Dutch oven and heat to medium low.
Add onion and garlic, stir.
Add salt, pepper, sugar, cumin, and coriander.
Cook for 10-15 minutes until onions are translucent.
Add carrots, rice, bay leaf and stock (or water).
Cook 30 minutes or until rice is puffed up and carrots are soft enough to be crushed against the side of the pot with a wooden spoon.
Pass through a food mill into a clean pot or use an immersion blender in the Dutch oven.
Taste and adjust seasoning.
Bring back to a simmer, then serve with crispy fried shallots.