Spiced Caramelized Cauliflower Florets
Elmotoo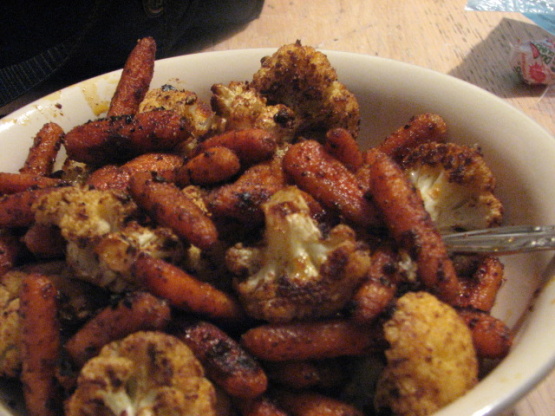 From Food and Wine, by Melissa Clark. This is a quick recipe perfect for weekday meals, but it's beautiful enough to serve even on gatherings and Holidays.

Top Review by Manami
Hi AniSarit, there were delicious! Spicy but good! I didn't have a problem with the butter but didn't see the reason for the cinnamon! In my opinion it took away from the from the cauliflower; also made a simple sweet dipping sauce for it - it was duck sauce made with a few extra spices. First ate it at a party I attended and then made it for a party I was going to. Thanks for sharing, Diane :)
Preheat the oven to 500°.
In a large bowl, toss the cauliflower with the butter.
In a small bowl, combine the sugar, salt, pepper, sweet and hot paprika and the cinnamon.
Toss the spices with the cauliflower until evenly coated.
Spread the cauliflower on a baking sheet in a single layer.
Roast for 20 minutes, stirring once or twice, until the florets are crisp-tender and caramelized.
For a beautiful presentation: Mound the florets on a serving platter or in a colorful glass bowl and sprinkle with coarse salt. Serve hot or warm, with toothpicks.