alligirl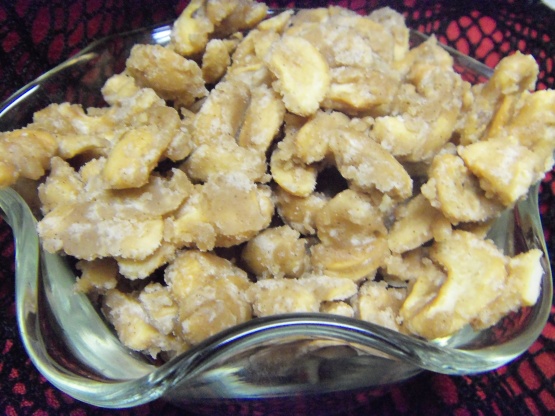 Taken from 5 Ingredient Fix...these things are soooo good. They have such a nice warm flavor. Good for Thanksgiving...fall or winter snacking.

These are some beautiful nuts, perfect for sharing, and almost like the ones from the fair! I especially love the warmth from the cardamom; everyone will be trying to identify that flavor. I tried to find raw cashews, but didn't have any luck. I eventually used regular cashews, cooking the syrup for the first 10-12 minutes, before adding the cashews. This worked out great and the nuts were not overcooked. Thanks so much for sharing, M Flaherty!
Line a baking sheet with parchment paper.
Put the nuts, sugar, water, and salt into a large skillet over high heat. Bring the mixture to a boil, stirring frequently, and cook until the water is nearly evaporated and the liquid becomes syrupy, about 10 minutes.
Meanwhile, mix the spices together in a small bowl.
After 10 minutes, sprinkle the spices over the nuts and stir well. Continue stirring constantly while the water evaporates completely, about 5 minutes. When there is no longer any sugar syrup left in the bottom of the pan, turn off the heat and stir the nuts vigorously but carefully in the pan until the sugar seizes up and the nuts are evenly coated with crystallized sugar.
Turn the nuts out onto the lined baking sheet and spread into an even layer. Cool completely before sifting the excess sugar from the coated nuts and storing in an airtight container.
Cook's Note: DO NOT touch the nuts at any time while cooking or just afterward. Cooked sugar is extremely hot and can burn instantly when touched.