Spiced Cabbage and Coconut
Rita1652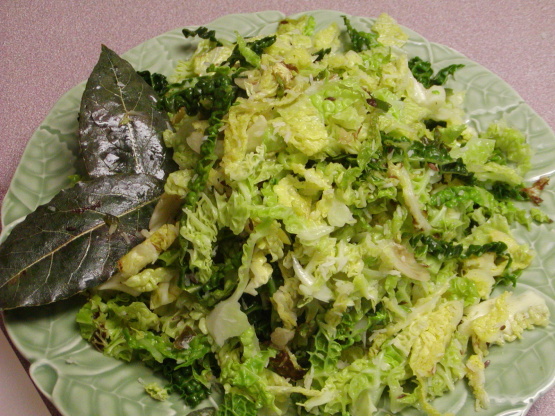 You read correctly: cabbage and coconut. This piquant Indian dish sounded so unusual that I had to try it, and I'm glad that I did. If you dare to try this, I think you'll be pleasantly surprised. The 700 g of cabbage equals about half of a medium sized cabbage.

This was ,very tasty and quick. I had the same issue as other reviewers, and tried to compensate by adding extra oil and cooking it covered for a while on a lower temperature. Next time I'll probably add some water or stock, or steam the cabbage first. Maybe we all missed something, could the recipe poster clarify if that is the case? Thanks for the great recipe anyhow!
Heat the oil in a wok or large skillet over medium heat.
Add the bay leaves, cumin seeds and green chilis and let sizzle a few seconds.
Add cabbage, salt, sugar and mix as well as you can.
Cover and cook 15 minutes, stirring occasionally.
Add coconut and ground cumin, mixing well.
Cook uncovered an additional 10 to 15 minutes, stirring often and until all moisture is evaporated and cabbage is done.