Spiced Broccoli and Cauliflower Salad
Annacia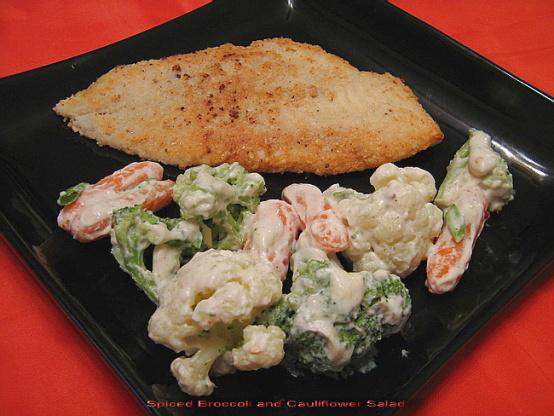 Ginger, cumin, coriander and other spices, plus a creamy,and slightlysweet dressing, lift this cruciferous salad beyond the usual.

I really do love this. I left out the honey because the idea of the sweetness really didn't appeal to me. Everything else was as ask for and boy, was it tasty. I'll be making this a lot this year. It's very quick and so easy. I used light sour cream to lighten the fat content a bit. The colors are great also. Thank you Geema for a very good side dish.
Steam the broccoli, cauliflower and carrots for 2 minutes, then rinse well under cold water to stop the cooking. Drain well.
Combine salt and next 5 ingredients in a small skillet; cook over medium heat, stirring constantly for 2 minutes. Do not let the spices burn!
Combine the spice mixture, sour cream, cider vinegar and honey in a bowl and stir well.
Add broccoli mixture and toss well to coat all the veggies.
Stir in green onions just before serving.