Spiced Beef Kabobs W/Tomato Mint Salad
WiGal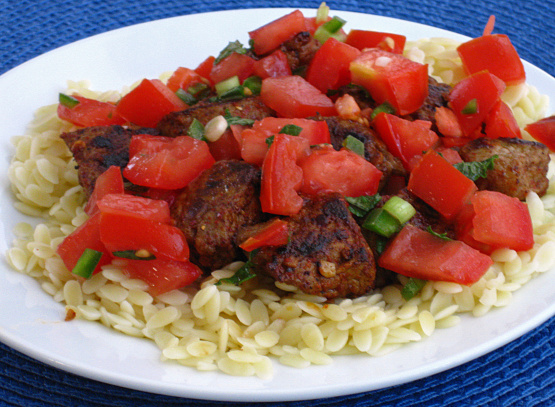 This recipe comes from Canadian Living magazine. The dish is full of flavour and light in texture.

Top Review by WiGal
The flavorings for the tomato mint salad are perfect! I used a regular tomato and then drained before topping the meat with it. Grilled cubes in frying pan and it worked out fine. At first thought the seasonings were too spicy for the meat but then realized my meat weight was smaller than Deantini%u2019s recommended size. Served with orzo only b/c I have no couscous right now. Thanks Deantini for sharing.
Kabobs:.
Trim beef; cut into cubes.
In bowl, combine garlic, oil, chili powder, cinnamon, nutmeg and pepper; add beef and toss to coat. Let stand for 15 minutes. (Make-ahead: Cover and refrigerate for up to 8 hours.).
Thread beef onto 4 metal or soaked wooden skewers; sprinkle with salt. Broil about 5 inches (12 cm) from heat or grill, covered, over medium-high heat, turning once, until browned yet still pink inside, 8 to 10 minutes.
Salad:.
Toss all ingredients in a bowl and let stand for 10 min before serving for flavours to mix.
Couscous:.
Boil broth and pour in couscous, move from heat and place a tight fitting lid on top. Fluff with fork after 5-10 minutes and when dinner is ready to be served.
To serve - place couscous on plate, place kabob over top of couscous and spoon salad on top.