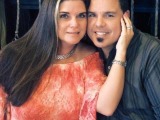 The bay leaves give a faint flavor akin to allspice, and the cinnamon stick contributes its own subtle note.
Directions
Rinse rice in several changes of cold water until water runs clear.
Drain well in a sieve.
Bring rice, broth, cinnamon stick, and bay leaves to a boil in a 4-quart heavy pot over high heat.
Reduce heat to low and cook, covered, until rice is tender and liquid is absorbed, about 15 minutes.
Remove from heat and let stand, covered and undisturbed, 5 minutes.
Discard bay leaves, then stir in butter until melted.
Fluff gently with a fork.
Cooks' note:.
Rice can be made 1 day ahead and cooled completely, uncovered, then chilled in an airtight container. Reheat rice, its surface covered with a dampened paper towel, in a colander set over a saucepan of boiling water, covered, 5 to 10 minutes.
Most Helpful
I had to use regular bay leaves, but the result was great for me, especially like that it's a very very low sodium recipe. Very good and would also serve as a fine base to which steamed vegetables or leftover chicken could be added.

Loved this rice! I love cinnamon so it was perfect for me!!

Wonderful! I made 2 servings and could have eaten them both myself! Love the cinnamon infusion, I used a full 3" stick and wouldn't reduce that at all. It was delicious with some herbed chicken. I think I'm going to be making this often.Yummmmm