Leslie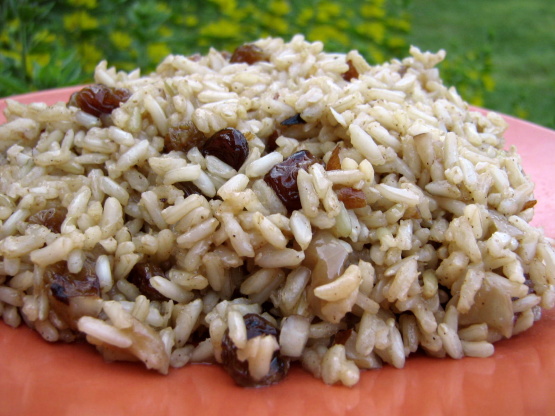 This dish is so flavorful that it could be a main dish! I personally love to serve it with tilapia or swordfish. It's delicious, and it's healthy! Washing the rice will remove the starch coating that makes the rice stick together. In Indian cuisine, the rice is supposed to be individual grains, not stickly like Chinese or Japanese rice.

Top Review by Leslie
Wow! This was a real stretch for my family and I honestly was not sure if they would like it or not. Cinnamon and raisins usually mean "dessert" to them. But we all totally loved this, it was delicious, and I am so glad we tried it. Thanks for posting! Made for ZWT 3 :)
First, wash the rice! Place the rice in a large bowl and fill with fresh, room temperature water. Swirl your hand through the water and the rice; the water will go cloudy. That's all the starch that we're trying to remove in order to have individual grains of rice. Once you've swirled your hand around for a minute or so, pour off the water, taking care not to lose any rice. Repeat this washing process until the water runs clear. Usually, this takes 3 or 4 changes of water.
Saute onion in olive oil over medium heat.
Add spices, reduce heat to medium low, and cook 1 minute.
Stir in rice until coated in oil.
Add salt and boiling water. Bring mixture to a boil over medium heat.
When water begins to boil, cover pan, and reduce heat to low. Cook about 45 minutes until rice is tender. You shouldn't need to stir the rice. It will soak up the water when it's done.
When rice is nearly done, heat butter in skillet. Add raisins/craisins and nuts. Saute until golden brown.
Mix with rice and serve.