Spiced Applesauce Cupcakes
Dorel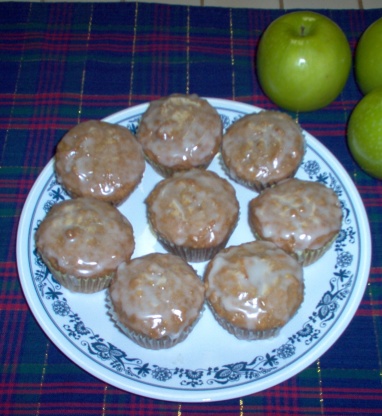 These are SO darn good! This recipe makes a nice, big batch of cupcakes - it's good for taking to the office, parties, etc. Recipe is from Sunset.

I made this as a Xmas morning breakfast-in-bed for my honey, and he just absolutely loved waking up to it! It was yummy, and the glaze really made the recipe special. I varied the recipe a little bit... First, with the cupcake batter, I simply tossed all of the ingredients into a food processor - first the wet, then the dry - and whirred them on high speed. Later, with the glaze, I added a bit of powdered ginger for a little tang.
Whisk together flour, baking soda, cinnamon, nutmeg, cloves and salt until very well combined; set aside.
In a mixer, beat butter and sugar until creamy; add egg and beat until fluffy.
Stir in applesauce.
Gradually add flour mixture, beating until well blended; stir in nuts.
Spoon batter into paper-lined or well-greased 2 1/2-inch muffin pans, filling each about 2/3 full.
Bake in a 350°oven until tops spring back when lightly touched (20-25 min).
let cool in pans on wire racks for about 5 minutes.
Prepare Apple Glaze, carefully remove cupcakes, place on racks and brush with glaze.
Apple Glaze: mix powdered sugar and apple juice until smoothly blended and of a good brushing consistency.