Spiced Apple and Almond Cake
Katzen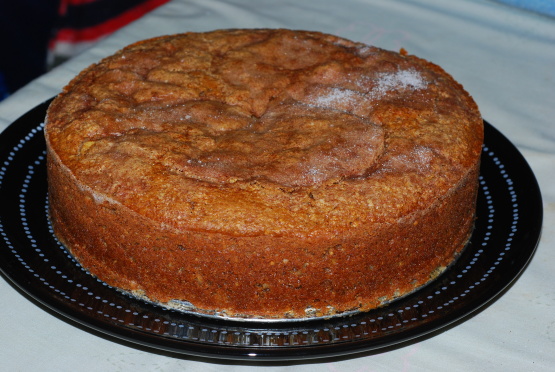 Amazing cake: moist and spicy. Very easy to make: just put all the ingredients it in a food processor, then bake. Freezes well.

Top Review by Katzen
This is a deliciously spiced cake! And, would you believe that I didn't know you could do this sort of thing entirely in a food processor? How simple! I used the butter from cold, just chopped it into six chunks, which I tossed in. I'd like to add a caramel sauce to it , as well, for decadence! Wonderful - thanks for recommending, Mikekey! Made for Top Favourites of 2009.
Preheat oven to 350°F
Grease an 8-inch round cake pan and line the bottom with waxed paper.
Place all ingredients in a food processor or mixer bowl. Blend for a few seconds until thoroughly combined.
Spoon the batter into prepared pan.
Bake 50 to 60 minutes or until a skewer in the center comes out clean.
Cool in the pan 10 minutes before turning out on to a wire rack to cool completely.
Cut into slices.