Spiced After-Dinner Coffee
twissis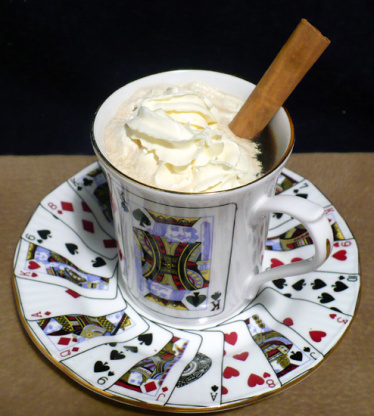 This is a great drink for company.

Made for the *Comfort Cafe* event, this is a very nice stand-alone dessert coffee & ideal as the sweet finale of an otherwise heavy dinner that does not require a dessert. Amaretto is a classic w/coffee & I esp favor the use of cloves w/cinnamon in this. It is definitely sweet & those who might favor a less-sweet version can start w/a reduced amt of sugar & adjust to taste pref. I wonder if it can be made quicker-to-the-table by fixing it in a coffeemaker? You could start w/the sugar in the pot, add the spices to the filtered grounds & add the Amaretto after brewing. I think I will try that ~ next time. Thx for sharing this lovely dessert coffee recipe w/us. :-)
heat coffee, sugar, cloves and cinnamon sticks in a deep sauce pan over low heat for 10 minutes. Do Not Boil!
Stir in Amaretto.
Pour into mugs, serve with whipped cream. And decorate with orange rind strips if desired.