Rita1652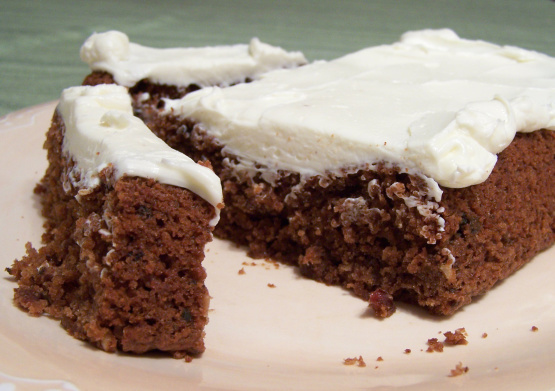 This is a nice moist rich tea loaf, the cranberries give it a wee bit of tartness and the walnuts a bit of crunch. I used Cox pippin apples and I didn't peel them. I have used syrup and honey and both work well. Also I chopped the walnuts.

I made half the recipe seeing it served 14 and we were only 2. I must say my DH ate 4 servings worth. But in fact I think this should be recalculated. The full recipe would serve 7 not 14. making this a lot more fattening! It was sweet! For those with a sweet tooth you have to make this. I did cut back the baking time to 1 hour. Very Very good! Good Luck with the RSC contest.
Pre heat the oven 170/325.
Oil a 2 litre loaf pan and line with silicone paper.
Mix together oil, sugar, eggs and golden syrup.
Mix together in an other bowl flour, cinnamon, ginger, bicarbonate of soda.
Grated apple, cranberries and walnuts.
Then add the flour mixture to the oil mixture and mix well.
Pour into the prepared tin and bake for 1hour 30minutes.
Test with a skewer to see if done.
While the cake is cooling make the topping.
Beat the cream cheese until smooth and add the sifted sugar.
Spread over the loaf and if you wish sprinkle some walnuts on top.