Spice Plank-Grilled Salmon
PaulaG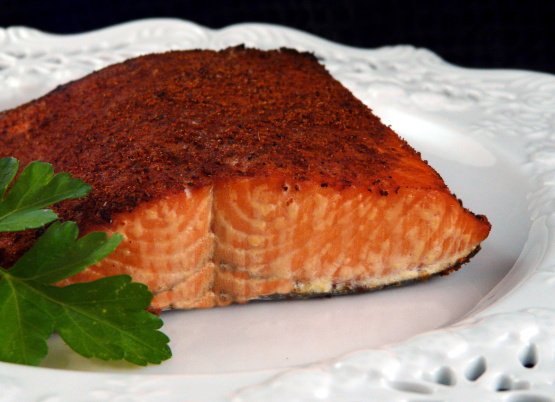 This is the first time I used a cedar plank for cooking fish -- and this is the best way to grill salmon as far as we're concerned (also lower fat too) - the salmon came out so moist and spiced just right -- the fish doesn't taste spicy at all. Posted for World Tour - USA - Northwest region. Recipe source: local newspaper

I used the spice rub (but more cayenne for personal taste) on the salmon and since I don't have a grill or the plank for the grill - I used my George Foreman, and it came out delicious! The rub made a "crust" on the fish which was superb! It's a pain to measure out all the spices, but once it's done, you realize it's worth it. Thanks for a keeper!
Soak cedar grilling plank for one hour.
Prepare grill.
To prepare the rub, combine all ingredients in a small cup or bowl.
Rub mixture on the top of the salmon.
Place plank on grill, close grill for a few minutes and then place salmon, skin side down, on the plank.
Cook covered, for 10 minutes or until salmon flakes.