CoffeeB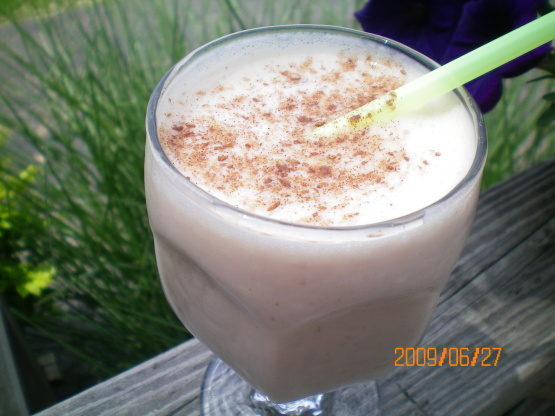 Drink for a fast, anytime boost! Adapted from BH&G magazine.

This is really good. DD (toddler) and I loved it! It was Dibs (date syrup/date molasses) that made it! That way it was so smooth. I don't suggest this recipe without date. Once I used mainly dark brown sugar but with the date flavour it was much better. I omitted the nutmeg as we don't consume it because of it's intoxicant properties and shook allspice on top. I would make this with dibs and allspice again.
6

ounces plain yogurt
1⁄2 cup rice milk

2

tablespoons caramel sauce (or ice cream topping)

1

tablespoon dates (optional)
1⁄4 teaspoon cinnamon

1

dash nutmeg
Mix the yogurt, rice milk, caramel sauce, dates(if using) and cinnamon together in the blender and puree. If you want a little more thin, add more rice milk.
Pour into a glass and sprinkle nutmeg over the top. Drink and enjoy!