Rita1652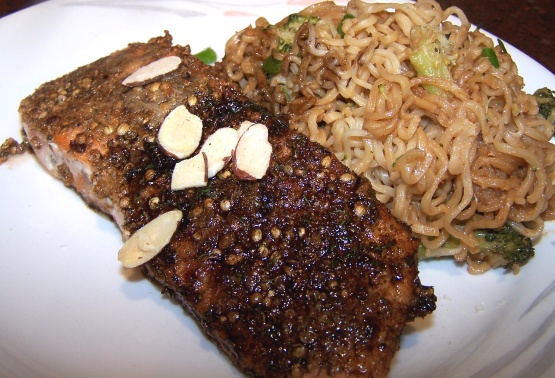 Spice Crusted Salmon, This is for Echo echo........... This is healthy & full of flavor. You can grind the spice mixture in a coffee grinder.

I had to put off making this a few days because I was missing the coriander, but finally got the chance and let me tell you, for a salmon-lover like me this was a real taste treat, quite the quality I'd expect from a dish in a top gourmet restaurant. Having tasted it, I'm doubly honored that you invented this for me, Rita. Thank you so much. I'll be sharing this often.
Spread the spice mix on a plate and stir to mix.
Toss egg mixture together.
Dip the salmon fillets in the egg mixture and then in the spices.
Heat enough olive oil to coat bottom of a large pan until the olive oil begins to ripple. Cook the salmon 3-4 minutes on each side over medium heat (about 8 minutes per inch of thickness).
Remove salmon to a serving dish and kept warm. Discard the oil, add the balsamic to the pan.
Swirl around over high heat to pick up the salmon flavors. Reduce the liquid by half. On low heat, add the honey, butter and swirl. The consistency of the sauce should thicken slightly. Don't boil it. When the honey and butter is completely mixed, add in the chopped dill and pour over the salmon. Or pour on plate and place salmon on glaze. Garnish with nuts. Serve immediately.