Spice-Crusted Chicken Breasts With Lemon-Cucumber Raita
kolibri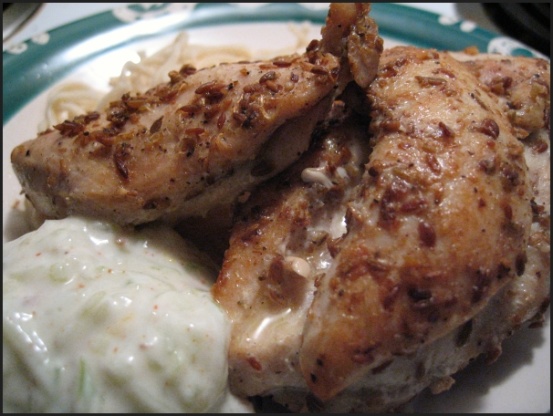 Great Crusted Chicken with a nice mixture of indian spices. The tangy yogurt and spices in the raita suggest an equally tart Sauvignon Blanc like the 2001 St. Supèry or the 2000 Silverado.Recipe by Joanne Weir author of More Cooking in the Wine Country.
Preheat the oven to 350°. In a small dry skillet, toast the coriander, cumin and fennel seeds over moderate heat until golden and fragrant, about 3 minutes. Transfer to a spice grinder and let cool. Grind the seeds to a fine powder.
Spread the shredded cucumber on several layers of paper towel and blot dry with more paper towels. Transfer the cucumber to a bowl and stir in the yogurt, lemon zest, garlic, cayenne and 1 teaspoon of the spice mixture; season the raita with salt and pepper.
Brush the chicken with 2 tablespoons of the olive oil and season with salt and pepper. Sprinkle the remaining spice mixture all over the breasts. Heat 2 large ovenproof skillets over moderately high heat and add 1 tablespoon of olive oil to each. Add 3 of the breasts to each skillet, skin side down, and cook until golden, about 4 minutes. Turn the breasts and continue cooking for another 3 minutes. Transfer the skillets to the oven and bake the chicken for about 8 minutes, or until just cooked through. Serve the chicken warm, with the raita.