Linky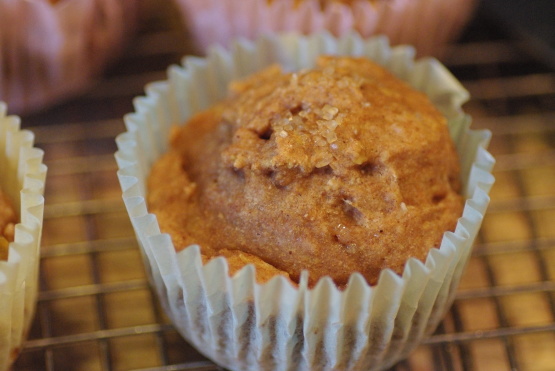 Tasty and healthful. They're very moist and will change your opinion about spelt! I often change the fruit I add to this recipe, depending upon what I have. Shredded carrot and raisin is a great combo, or crystalized ginger and pear, or apple walnut, etc. Recipe works well without the banana, too.

These are amazing! I have never baked with spelt and thought I would try this recipe... I didn't really know what to expect and I was so happy with the results. I used the applesauce and real eggs as well as ground ginger in place of nutmeg and about 1.5 bananas. Also didn't have raisins so I used dried cranberries. The flavour and texture are so good I can't believe there's no oil in this recipe. I will definitely make these again... and probably double the batch!
Preheat oven to 375 degrees.
Mix all dry ingredients together in a large bowl.
Add the eggs, applesauce or yogurt, vanilla, honey, and buttermilk to the mashed banana.
Add the liquid ingredients to the dry ingredients and gently stir. Do not overmix.
Combine the fruit and nuts with the batter.
Fill oiled muffin cups 3/4 full.
Sprinkle tops of muffins with additional flax seed meal and bake for 15-20 minutes.