Spelt Bread (Bread Machine)
Farzana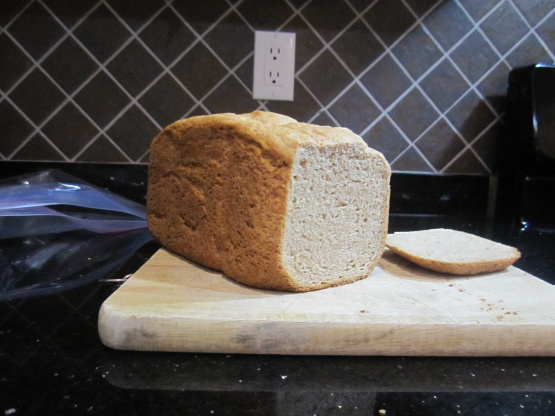 This is a very tasty bread that is easy to make.Spelt has a nice nutty flavor. I added about 3 tablespoons of sunflower seeds & 2 tablespoons flax seeds to this recipe the results was very, very good, other grains could be added.

Top Review by joolzk
I tried this recipe, its great! I have allergy to soy so I used rice milk instead, and olive oil instead of canola. i added flaxseeds and pepitas to the recipe and cooked it on rapid cycle (3 hours for my panasonic). The texture was soft and moist and the flavour was nutty and a little bit sweet. Have the second loaf mixing right now as my sister likes it too. Parents were harder to convince as they are used to the supermarket bread that is loaded with salt and arent sure about the sweetness of the spelt loaf, although I spotted mum eating it this morning instead of the "Helga's" bread she normally eats!
Place ingredients in pan of bread machine in order recommended by manufacturer.
I used the cycle for white bread,Quick or Rapid,& light crust. My bread Machine is a Breadman, so I used Rapid cycle (time 2 hours).
Note: I did have to add a little more milk when it was mixing.