Bobbiann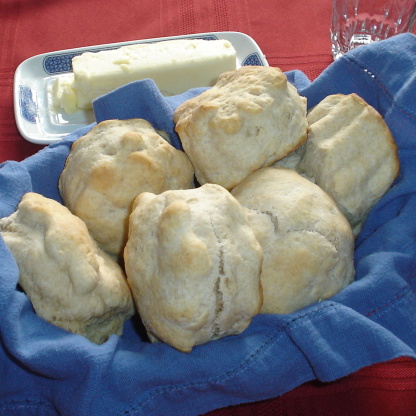 This is my mom's popular biscuit recipe made with spelt instead of wheat. Best eaten fresh; may be frozen.

Top Review by Pente
I'm sorry to write a negative review and for perspective, I actually joined food.com just to do so. I don't do it lightly, but in leaving this review I hope to save other's ingredients, time, and frustration.

I am a fairly accomplished home cook and baker, have used spelt flour for over twenty years and am well-versed in the other ingredients and their culinary/baking purposes.

I made this recipe based on the glowing reviews, and unfortunately, I never noticed that all but two people leaving 5 star reviews never actually followed the recipe!! Instead, they all added less liquid, most needed more flour, some made other substitutions or add-ins.

These biscuits were just short of horrible. I followed the directions to the letter and ended up with an extremely wet dough (fine, I'm used to adding more/less flour to adjust for humidity, batch differences etc. but I added well over 1/3 a cup plus liberal amounts on the board).

The rise was not too bad, though with the amount of baking powder one should expect as much. This very same poweder though, led to the next problem I experienced....a pronounced and lingering flavour of baking powder (not pleasant btw). Add to this a rather assertive level of salt, and we have a basic flop of a recipe.

Again, I hate to be so negative, but really, I wasted my time and ingredients -- organic ones at that! (I know, who cares? I do ... $$ down the drain)
I actually came back to the computer to double-check that I had made the correct recipe and that it was the one with all of the glowing reviews...that is when I noticed that nobody actually made the recipe as it is written, despite thanking you for the recipe...what is up with that?

So my point is two-fold:
1) for me at least, this recipe as written was not successful
2) if people are going to leave reviews that basically involve substantial changes to the recipe, how can you give the recipe 5 stars? Or am I missing something? A recipe isn't supposed to be a loose list of ballpark figures and generalities (to be fair this recipe gives exact measurements), esp. in baking. So, when you change things to that degree I don't think you can actually say the you made the recipe in question and as such also can't review it.

Again, sorry for the negative review and the mini rant but I just get frustrated at this kind of thing.
Mix together dry ingredients; cut in margarine.
Add honey and milk; stir well.
Turn out onto floured board and knead at least 10-15 times.
Flatten dough into (approximately) 9-inch circle; cut into circles with biscuit cutter or large glass. Place on greased or non-stick cookie sheet.
Bake in oven pre-heated to 350ºF for 15-20 minutes or until brown.