lazyme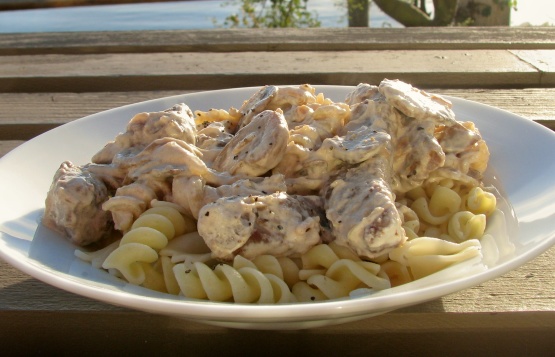 Using porterhouse steak makes this stroganoff very tender and tastey...you could use another cut if it is on sale with very similar results. If it is a fairly cheap cut of meat, marinate it for 1 hour in the refrigerator with 1 tbsp vinegar, 1 tsp salt and enough water to cover. This will tenderize the meat. It is best to slice the meat while partially frozen, and slice it diagonally across the grain to make the meat more tender and also make it look larger in the dish! To make this more economical, use ground beef, but be sure to drain the grease from the pan! Note: Prep time does not include marinating a less tender cut of beef!

Top Review by lazyme
This really is speedy! I hesitated to use a good porterhouse steak for stroganoff, but glad that I did. It turned out very tender. I added a couple of slices of onions that I needed to use up when I was sauteeing everything and I thought that it was a nice addition. Very simple, tasty, and quick. Next time I will thin the sauce out a little more but this had all of that great stroganoff taste. Thanks breezermom for a nice new keeper. Made for 1-2-3 Tag.
Slice steak diagonally across the grain into thin strips; toss with the flour.
Brown steak in butter in a large skillet over medium heat; at the same time, add the mushrooms and garlic. Once the steak is brown, add the water and soup mix.
Bring to a boil; reduce heat, and stir in sour cream. Cook uncovered until thoroughly heated. (Do not boil once the heat has been reduced to keep the sour cream from curdling) Serve over noodles or rice.