Spectacular French Onion Soup
lazyme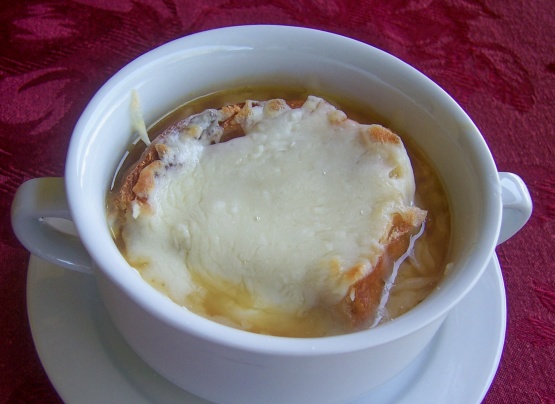 This is the best and easiest French Onion Soup. I use mozzarella cheese sometimes instead of swiss. I also use beef bouillon mixed with water if I have no broth on hand.

I love this recipe.This is the best French Onion soup I have ever made. My only changes were a dash of paprika while the onions were cooking for color . My white wine was a pinot gres and I used provolone cheese and fresh grated Parmesan. Don't hesitate to try this one. It is VERY VERY good.
In a large saucepan over low heat, melt butter with olive oil. Cook onions in mixture, stirring occasionally, for 30 minutes, until very soft, translucent and brown on the edges.
Sprinkle the flour over the onions and stir to combine. Pour in beef broth, wine and water with bay leaves. Bring to a boil, then reduce heat and simmer, uncovered, 20 to 30 minutes.
Preheat oven broiler.
Toast the bread slices. Ladle the soup into 6 ovenproof bowls and place the bowls on a baking sheet. Place a toasted slice of bread over each bowl and top with Swiss cheese.
Place bowls under broiler until cheese is melted.