Brenda.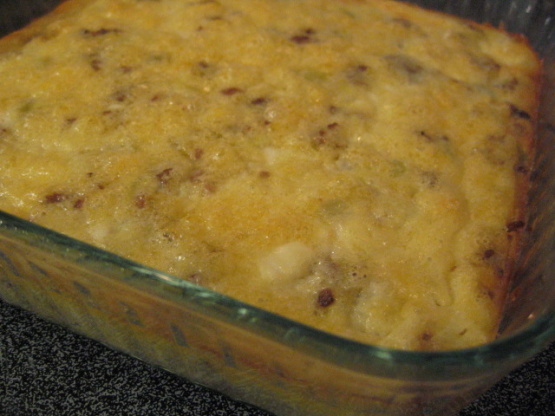 Yet another breakfast recipe I tried on my family for dinners (they love breakfast for dinner) and they love it.

I served this egg bake at a wedding shower and wasn't sure how the guest would like the chilies. I substituted 2 cups chopped asparagus and 2 cups ham. Salt and pepper to taste. I was leery of how it was going to set up without any bread. It was absolutely wonderful! I will serve this entree for any type of celebration. I made it the night before and it baked up nicely.
Preheat oven to 325 degrees and prepare a 13x9 or 11x9 inch baking pan with nonstick spray.
Brown sausage and set aside.
In a small bowl mix flour, baking powder and salt.
Melt butter in a small saucepan or in microwave.
Beat eggs in a large bowl until well blended.
Add flour to the eggs and beat until smooth. Stir in melted butter, Monterey Jack, cottage cheese, green chiles and sausage.
Pour into prepared baking dish.
Bake for about 35 mins until set.