ImPat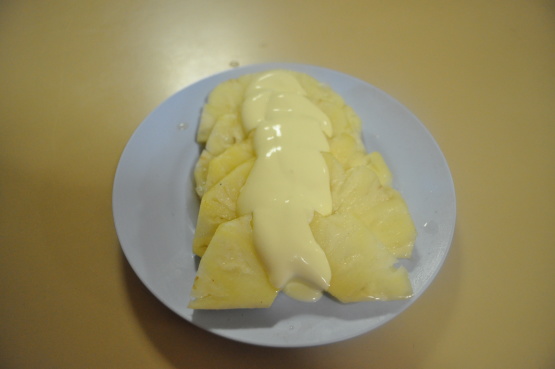 My girlfriend made this dish for me, its so good and very quick and easy to make. I love ginger so she added it just for me. I couldn't believe how great this is...perfect at the end of the meal. Very refreshing and light.

Top Review by ImPat
WOW a lovely light dessert, unfortunately I don't know what happened to the cardamon pods and has to use ground cardamon but followed through using half a large pineapple which was plenty for 3 of us but that ginger cream is definately the jewel on the crown which brings it all together in its shining glory. thank you Baby Kato, made for Aussie/Kiwi Swap #44 September 2010.
Prepare your pineapple and place in a serving dish.
Add the crushed cardamom pods to a small pan with the lime rind and water.
Bring to a boil, reduce heat and simmer 1 minute.
Remove the pan from heat and add sugar, then cover with lid and leave for 5 minutes.
Make sure that the sugar has dissolved, if not stir until it is.
Next you want to add the lime juice and strain it over the pineapple slices, then cover and chill in the fridge for 30 - for a suble flavor, 60 minutes for a stronger flavor.
Add the shredded ginger to your prepared whipped cream and use as a garnish for the pineapple.