Special Swedish Meatballs
Prep 15 mins
Cook 25 mins

adapted from Kitchen Witch's Cookbook
Directions
Soak the bread crumbs in the milk; mix with the ground beef. Add the eggs, onion, garlic powder, salt, pepper, nutmeg, and mustard; mix throughly. Shape into 40-50 bite sized meatballs. Bake meatballs at 350 degrees for 20 minutes.
Mix the remaining ingredients in a separate pan or crockpot. Simmer until the sauce thickens. If necessary, add a little flour or cornstarch to give the sauce enough body to stick to the meatballs. Add cooked meatballs. Serve with toothpicks.
Variations: Ground tofu may be used instead of the beef.
Reviews
Most Helpful
This was a pleasant meal that has a lot of potential. I made this exactly as posted, but wasn't sure what size to roll the meatballs. I ended up with 24 meatballs about the size of a golf ball. The meatballs were nice and dense, but I would probably reduce the nutmeg next time, as that flavor was predominant. The gravy had a lot of promised, but did not thicken at all, even though I added cornstarch mixed with a little water. Would have been great otherwise. Made by a Tasty Tester for ZWT9.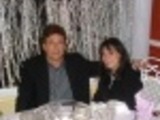 Made these last night to take to take to a monthly parent trustee meeting late this morning at school, just had to reheat in the microwave when I got there. I did omit the salt though. These made for a great appetizer this morning. They had tons of flavors in them, and by the time the 30 minute meeting was over, the eight of us, had all of them devoured. For the record I did end up with 40 meatballs all together. Cooking time was all right, I took mine out after 25 minutes.