Special Restaurant Chocolate Chip Cookies
fawn512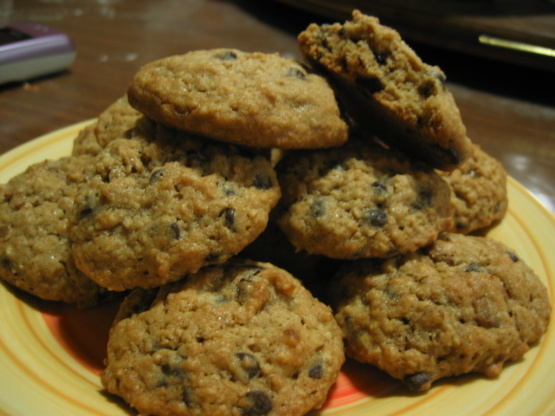 A friend shared this recipe. It's not your average chocolate chip cookie. Try it, you'll like it. The origin of the chocolate chip cookie was the Tollhouse Inn in Massachusetts - New England.

These are so good that I BET YOU CAN'T EAT JUST ONE!!! I sent a "care package" to my daughter's house - the grandchildren called to say they were YUMMIE & my daughter asked for the recipe. The only change I would make next time is to grate the hershey bar into the butter mixture as I think it will combine better. Thanx PanNan!
Prepare oatmeal flour in blender.
Cream butter and sugars.
Add eggs and vanilla to creamed butter/sugar mixture.
In separate bowl, mix flour, salt, oat flour, baking soda and baking powder.
Add to creamed butter mixture and mix well.
Add chips, grated chocolate and nuts.
Make 1 1/2 inch balls and space them 2 inches apart on baking sheet.
Bake at 375° for 6 minutes. Check them.
If just starting to crisp and brown, remove them. If not, check every minute or two.
Let rest a couple of minutes and remove to a rack to cool.