From Taste of Home, credited to Ruth Harrow. The whole family loved this moist and tender pork cooked in a sweet/soy applesauce.
Directions
In a shallow bowl, combine flour, salt and pepper. Cut each tenderloin into six pieces; flatten to about 1-inch thickness. Melt butter in large skillet. Dip pork into flour mixture; add to skillet and brown on both sides. Place in an ungreased 11x7 baking dish. In the same skillet, saute onion and garlic until tender. Add remaining ingredients; bring to a boil. Pour over pork. Cover and bake at 350 degrees for 1 hour or until the juices run clear and a meat thermometer reads 160 degrees.
Most Helpful
Excellent, very good recipe. Everyone that ate it really enjoyed this tenderloin. We'll definitely be making it again.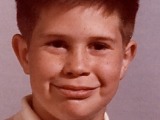 Oh Yea... so tender, and was this ever good!! I actually doubled the recipe for 4 pork tenderloins, increased the garlic and decreased the brown sugar, I served this with oven baked rice and salad. Everyone we licking there plates LOL! What a fantastic pork recipe... everyone try this! Thanks LHM for posting this great recipe...Kitten:)
This was good, but we thought it was a little too sweet. I'll probably cut the brown sugar in half when I make this again. Thanks for sharing!