Special Mexican Chicken Soup
Brenda.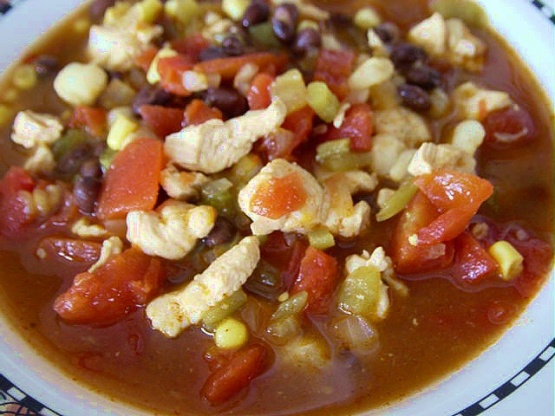 I know there are a lot of Mexican/Taco/Soup/Stew recipes out there but I hope you'll try this one! .

This is so delicious! We all had a big bowl for lunch with oven baked tortilla strips and a dollop of sour cream for DS. I did add a small can of corn and a can of black beans. I also used a 28 ounce can of tomatoes with the juice as well. A very nice base which lets you add what you have on hand. Thanks so much for sharing. Nick's Mom
Heat the oil in a medium saucepan over medium heat.
Add the onion, celery, garlic, chili powder, and cumin, and cook until the onion softens, about 5 minutes.
Add the chicken broth, bring to a boil, reduce the heat slightly, and simmer, uncovered, for 10 minutes.
Add the green chiles, hominy, tomatoes, and oregano and cook for another 5 minutes.
Pull the saucepan from the heat and stir in the chicken, cilantro leaves, and lime juice.
Season, to taste, with salt and pepper.