Aimchick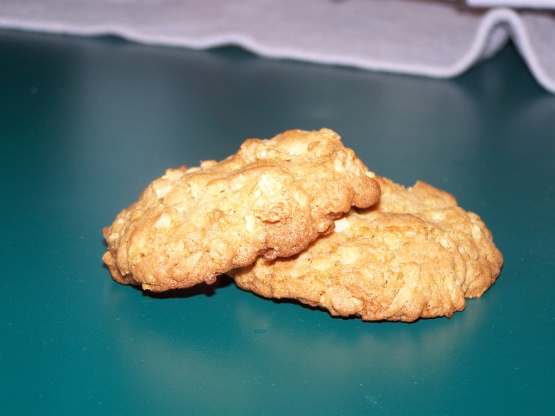 This fantastic cookie is one of my favorites. Its chewy AND crunchy. I have to make a lot of these at a time because they get eaten up fast by my family. I suggest mixing the whole thing by hand so you don't break up the cereal.

I've made these twice, doubling the recipe both times. The first time I made these, I did not have any sweetened coconut, so I used unsweetened. I preferred it with the unsweetened coconut, not only because it was less sweet (obviously), but since the unsweetened coconut is finer, the texture was better and the cookies were more crunchy. I tried it again, but this time did not have enough unsweetened coconut, so used half sweetened; half unsweetened. I liked it less than with all unsweetened. Maybe 3/4 unsweetened to 1/4 sweetened might be the key.
Cream together butter, sugar and brown sugar.
Beat in egg and vanilla.
Add flour baking soda and baking powder and mix well.
Then add Special K and coconut and mix well.
Shape into 3/4-inch balls.
Bake 2 inches apart at 350 degrees for 12-16 minutes.