Special Hot Ham and Cheese Sandwich
gailanng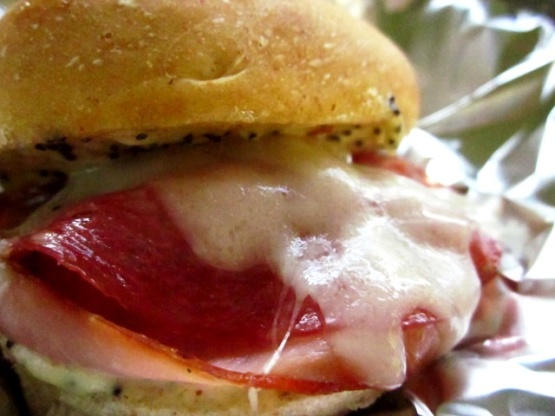 I added a slice of salami to each and served at a potluck. My b-i-l crashed the buffet line to get to these babies. He's always so afraid the food would run out so to get even, behind his back, I took a sip of his drink. No, no...I took a bite of his dessert. No, I didn't do that either. Oh, now I remember...I licked the butter off his bread.
Combine first 5 ingredients.
Spread evenly on each bun half.
Layer 8 bun haves evenly with cheese and ham.
Close sandwiches.
Wrap each sandwich with foil.
Freeze.
To bake: Frozen in the foil, bake sandwiches for 1 hour at 350 degrees.