My husband loves these little egg noodles with a roast.
Directions
Beat eggs, milk, flour and salt in a large bowl.
Can allow mixture to sit until ready to cook.
Bring a large pot of water to a boil.
Add salt liberally to boiling water.
Force dough through large holes of a colander/drainer directly into boiling water.
Make in batches and do not overload the pot.
Bring each batch back to a boil.
Noodles are done when they float.
Remove with a strainer and keep warm while cooking remainder.
Toss each batch with a little of the butter.
Serve with gravy.
Most Helpful
These are GREAT!!! I especially like spatzles mixed with green beans or sauteed in a little butter with a little onion...YUM!!! Froze some for later use. THANKS!!!!!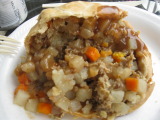 These are delicious little noodles...and so versatile! I tried them with sour cream and sauteed onions. Would also be great with garlic and butter or a creamy cheese sauce.

Loved it! Great with sauteed butter and onions, then mixed with sour cream!