Sparkling Strawberry Pops
rosie316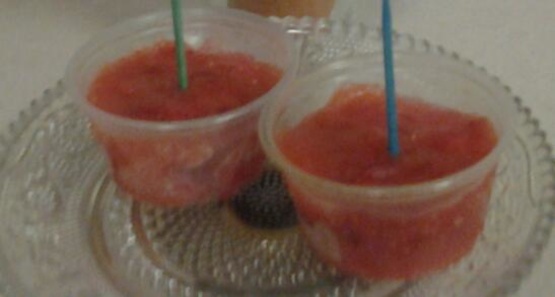 For the kids version use non-alcoholic sparkling grape juice.. Cooking time is freezing time.

Made these for PRMR and they are very tasty. I used sparkling white grape juice and then we didn't use sticks. I thought it would keep things neater if we used spoons instead. I also could not strain out the solids. I would like to tweak it to make it more similar to a Luigi's Italian Ice by adding more lemon and maybe reducing the sugar a bit. Looking forward to trying it with other fruits as summer rolls around.
Combine sugar and water in a microwave safe bowl, and microwave on high for 3 minutes or until boiling.
Stir until sugar dissolves and cool.
Combine berries, juice, and corn syrup in a food processor, and process until smooth.
Strain through a sieve over a bowl, pressing to extract juices, discard solids.
Combine the sugar syrup, strawberry mixture, and wine.
Divide mixture among 8 (4 ounce) molds and top with lids and insert craft sticks.
Freeze for 4 hours or until thoroughly frozen.